Player Benefits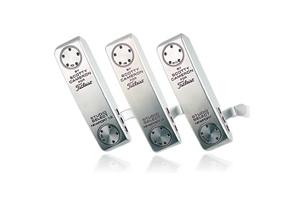 Length Options
Multiple length options are available in each model. The factory adjustable circular weights are set to provide the proper headweight to shaft length combination.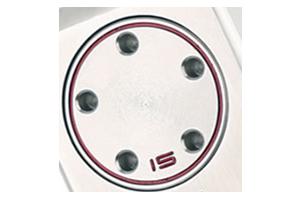 Heavier Options
Studio Select H putters, available in 34" and 35" lengths, feature a heavier head (+10g) to provide a heavier feel preferred by some players.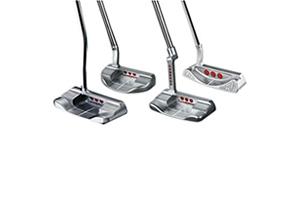 Body and Neck Choices
Multiple body sytles to suit different appearance preferences. Multiple neck styles designed to provide different amounts of toe flow through the stroke.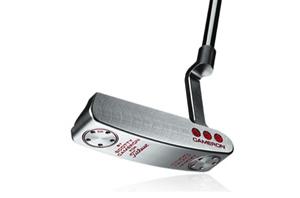 Tour Validated
Each design is based on Scotty's experience working with the best players in the world. Scotty Cameron by Titleist putters have been #1 on the PGA Tour since 1997.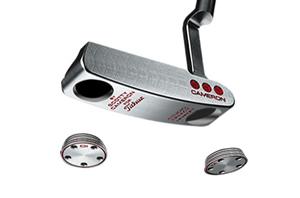 Enhanced Heel-Toe Weighting
Circular weight screws located heel and toe increase stability and MOI for a larger sweet spot and solid feel.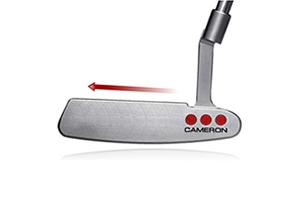 High Toe Profile
Toe sits higher than the heel to reduce the tendency to raise the toe at address which aims the putter left of the target.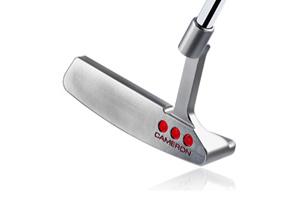 Soft 303 Body
Soft, precision milled 303 Stainless Steel body creates a crisp sound with great feel.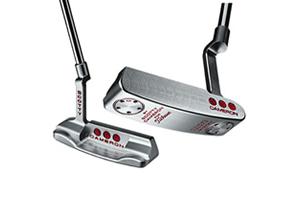 Bold Red Tour Graphics
Tour inspired three red dot cosmetics.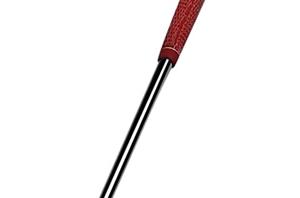 Stepless Shaft
Stepless shaft provides a clean appearance at address and delivers a soft yet solid feel.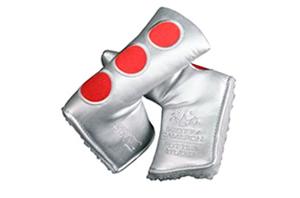 Headcover
Silver headcover with bold red tour graphics.
Opciones de Palos Personalizadas
Titleist ofrece una gran cantidad de variedad de varias, grips y opciones personalizadas para ayudar a los golfistas a alcanzar su mayor potencial.
Specifications
Studio
Select
Loft
Lie
RH
Length
Std.
RH
Length
Heavier
LH
Length
Std.
LH
Length
Heavier
Head-
weight
Std.
Head-
weight
Heavier
Offset
Neck
Grip
*Newport
4°
71°
33"
34"
35"
34"
35"
-
-
360g (33")

350g (34")

340g (35")
360g (34")

350g (35")
Full Shaft
Plumbing
Red Cameron Cord
Newport 2
4°
71°
33"
34"
35"
34"
35"
33"
34"
35"
34"
35"
360g (33")

350g (34")

340g (35")
360g (34")

350g (35")
Full Shaft
Plumbing
Red Cameron Cord
*Newport 2.5
4°
71°
33"
34"
35"
34"
35"
-
-
360g (33")

350g (34")

340g (35")
360g (34")

350g (35")
3/4 Shaft
Flare
Red Cameron Cord
*Newport 2.6
4°
71°
33"
34"
35"
34"
35"
-
-
360g (33")

350g (34")

340g (35")
360g (34")

350g (35")
None
Straight In
Red Cameron Cord
*Fastback 1.5
4°
71°
33"
34"
35"
34"
35"
-
-
360g (33")

350g (34")

340g (35")
360g (34")

350g (35")
3/4 Shaft
Flare
Red Cameron Cord
*Squareback 2
4°
71°
33"
34"
35"
34"
35"
-
-
360g (33")

350g (34")

340g (35")
360g (34")

350g (35")
Full Shaft
Plumbing
Red Cameron Cord
*Laguna 1.5
4°
71°
33"
34"
35"
34"
35"
-
-
360g (33")

350g (34")

340g (35")
360g (34")

350g (35")
1/2 Shaft
Flare
Red Cameron Cord
*Laguna 2
4°
71°
33"
34"
35"
34"
35"
-
-
360g (33")

350g (34")

340g (35")
360g (34")

350g (35")
Full Shaft
Plumbing
Red Cameron Cord